This years Birky Challenge Jersey goes back to our roots. Officer Craig Birkholz died protecting the citizens of Fond du Lac, WI on March 20th, 2011. His badge number of 67 is at the center of this memorial ride.
On the jersey's sleeves, the front of the jersey and the back, you can see the thin blue line. This thin blue line represents the blue line that separates order from chaos in our society. In numbers there is only around 1 police officer for every 1,000 people in the United States. This small number of officers face the burden of protecting the large amounts of people of this great country. This is what the this line represents to us.
Last year the City of Milwaukee had two officers die in the line of duty. A single death is horrible for families and departments to deal with. The fact the Milwaukee had two line of duty deaths in the same year is hard to comprehend. The Birky Challenge is showing the support for Milwaukee by positioning their badge in the middle pocket on the back of the jersey.
We have also listed Officer Charles Irvine Jr. and Michael Michalski's name on the back pocket in honor of those who made the ultimate sacrifice. The city of Milwaukee has changed patches through the last couple of years. After speaking with some officers we have chosen to use the new patch, which has been used in the past as well. This is to give credit to the past the future of the city of Milwaukee.
We have placed the quote "you may see me struggle, but you will never see me quit" on the back of the jersey for several reasons. The first reason is to inspire bikers to never give up. The second reason is to pay homage to some of your charities this year. Some of the organizations we are raising money for are geared for suicide prevention. We want to send out a positive message to never give up the fight.
Every year the Birky Challenge has had a portion that rides on Highway 67. This is emphasized on the back of the jersey. The road reference is tied in with the fact that life is a journey, there will be struggles at times, but we should never quit.
We can't wait to see you at the ride.
STAY STRONG. STAY SAFE. STAY POSITIVE.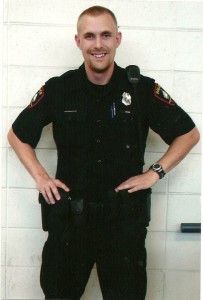 What You Should Know
NAME:
Officer Craig A. Birkholz
Badge: 67
1982 – 2011
OCCUPATION:
Police Officer for the
Fond du Lac Police Department
END OF WATCH:
March 20, 2011
FAMILY:
Wife – Ashley Birkholz
Parents – William & Gay Birkholz
Brother – Paul Birkholz
In-Laws – Rick & Maryann Czarnowski
COLLEGE:
UW-Oshkosh
MILITARY DUTY:
US Army, 511th Military Police Co.
Afghanistan and Iraq
PERSONAL MOTTO:
Stay Strong, Stay Safe, Stay Positive
Help support the Craig Birkholz Scholarship