This year we have chose to brighten up our jerseys with a paint splotch in Craig's favorite color Green. This splotch represents the mark we have left in Craig"s name with his scholarship. It is also in the shape of an explosion to celebrate the fact that we have met our goal.
We continue to represent the American flag on one sleeve as well as the thin Blue line on the other. The thin Blue line represents that the only thing that stands between order and chaos is a thin Blue line of those that work in Law Enforcement. We have also chose to honor the two Wisconsin Law Enforcement officers who had died in the line of duty in 2017. We have done this by putting Wisconsin State Patrol and Everest Metro Police departments patch on the Blue line.
The back of the jersey shows Craig's message to Stay Strong, Stay Safe and Stay Positive. This year we have defined what these ideals mean to us on the jersey. The back pockets have the patches for the charities that we are riding for.
We have Once again worked in a camouflage pattern on parts of the jersey to represent Craig's military service.
Finally we have written Team 67 on the sides as well as back to show unity.
We look forward to seeing you at the Birky Challenge this year!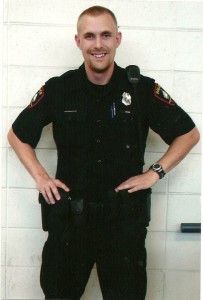 What You Should Know
NAME:
Officer Craig A. Birkholz
Badge: 67
1982 – 2011
OCCUPATION:
Police Officer for the
Fond du Lac Police Department
END OF WATCH:
March 20, 2011
FAMILY:
Wife – Ashley Birkholz
Parents – William & Gay Birkholz
Brother – Paul Birkholz
In-Laws – Rick & Maryann Czarnowski
COLLEGE:
UW-Oshkosh
MILITARY DUTY:
US Army, 511th Military Police Co.
Afghanistan and Iraq
PERSONAL MOTTO:
Stay Strong, Stay Safe, Stay Positive
Help support the Craig Birkholz Scholarship